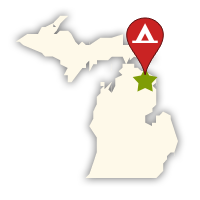 Emerick Park, located on the banks of the Thunder Bay River, is a good place to spend the day, a weekend, or longer. There are many things to do in the area to appeal to different types of people. Hillman's closeness to the population centers of Alpena, Rogers City and Gaylord provides an opportunity for shopping at stores and malls. Or for those who just want to tour the countryside, there is plenty of opportunity for deer and elk viewing. For the fisherman, Hillman is an excellent place to spend time.
The Thunder Bay River, nearby lakes, and streams provide many opportunities for anglers. In the spring, stream mouths and the shoreline of the Thunder Bay in Alpena offer excellent smelt dipping. Locally, brook trout are plentiful and at least 15 species of fish have been caught within the impoundment at the park. In season, mushrooms and wild berries are found nearby to add some variety to the menu. Hunters can find many types of game in season in the area. Dear, waterfowl, rabbits, squirrel, and other small game can be found. One of the favorite uses of the park, however, is a place to just relax and take it easy.
Clean, spacious,full hookup, showers and bathrooms right in town on the Thunder bay river. Two pavilions, new competition size horseshoe pits, playground for the children. Great place to vacation whether... read more you ride road or off road it's waiting for you at Emerick park. Boating, fishing, hunting come enjoy the outdoors in Hillman, Michigan.
John LaFleche


August 2, 2020
We have camped here for 35 years and seen many changes. Always clean and priced right. Back when Bob was the caretaker then Tommy the grounds were better maintained and... read more they were more visible and always checked in with campers.
Mike Conway


June 9, 2023
We love to go off-roading up around Hillman and when we do we stop in at Charlie O's Pizza and go to Emerick Park to eat it and it's always... read more a very nice outdoorsy setting for us. The park abuts the Thunder Bay River which is damned right there and creating a small lake behind the park.
Jerry Wontorcik


June 25, 2022